Segger J-Link Debug Guide
The SEGGER J-Link is the recommended tool for debugging baremetal applications created using the Cascoda SDK. The SEGGER J-Link has good integration to gdb, using a 'GDB Server' program to bridge the hardware to the gdb tool.
Software Requirements:
Hardware Requirements:
A suitable SEGGER J-Link
An adapter from the 20-pin JTAG to 9-pin or 10-pin swd connector
The target platform (This guide assumes Chili2D)
Procedure
Connect J-Link to Chili2D via debug adapter
Power the Chili2D
Connect the J-Link to the the host PC
Run the SEGGER J-Link GDB Server
Set the target device (M2351… For Chili2, NANO120… for Chili1)
Set the target interface to SWD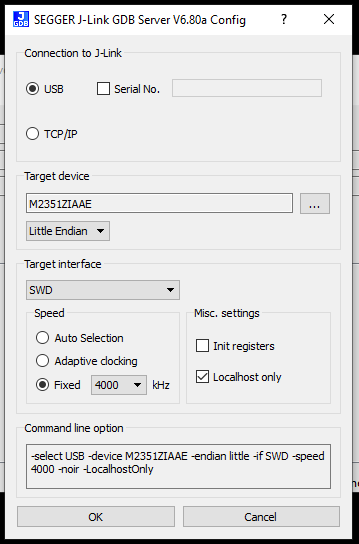 Click OK, the JLink should connect to the target
Check the log presented, it should print the port (usually 2331).
Connecting to J-Link...
J-Link is connected.
Firmware: J-Link V10 compiled Jun  9 2020 13:38:07
Hardware: V10.10
S/N: xxxxxxxx
Feature(s): GDB
Checking target voltage...
Target voltage: 3.28 V
Listening on TCP/IP port 2331
Connecting to target...
Connected to target
Waiting for GDB connection...

Start GDB in the build directory with the command (substitute arm-none-eabi-gdb with gdb-multiarch if necessary, and reference the target binary instead of mac-dongle)
arm-none-eabi-gdb 

-ex

 

"target remote localhost:2331"

 bin/mac-dongle

Use the monitor reset command to reset the target. Other useful commands:
| Command | Effect |
| --- | --- |
| load | Download the binary onto device flash |
| monitor reset | Reset and halt the target device |
| c | Continue a halted device |
| b | Set a breakpoint at the location (can be function name, filename:linenum, and more) |
| p | Print the value of a symbol (can also use other forms like p/x to print in hexadecimal) |
| x | Examine the memory values at an address (can also use other forms like x/10xb to print 10 bytes in hex) |
GDB is a very powerful tool, there are many guides on the internet that will provide more detail, including the GDB documentation itself.